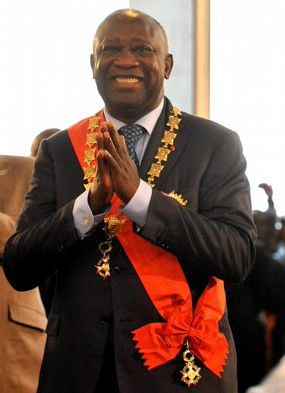 President Laurent Gbagbo was born on May 31, 1945 in Ganoa, Ivory Coast. He completed a BA in Philosophy at the Lycee Classique d'Abidjan in 1965 and obtained a degree in History at the University of Abidjan in 1969. As a trained historian, Gbagbo became a Professor of History and Geography at the same university in 1970. In 1974, Gbagbo worked as a researcher at the Institute of History, Art and Archaeology of Africa (IHAAA) at the University of Abidjan and in 1979 completed his Ph.D from Paris Diderot University, also known as Université Paris 7 - Denis Diderot.
The next year Gbagbo became the director of the IHAAA at the University of Abidjan; he also became a member of the National Union of Research and Higher Education (SYNARES) and was at the forefront of strikes in 1982 that affected the education sector. With a group of teachers he created the beginning of what is now the Ivoirian Popular Front (FPI), the political party for which he would later run for President. He became one of the leading figures of the opposition and fought against the dictatorship of the PDCI, the Democratic Party of Côte d'Ivoire, to preach a multiparty system. In 1988, FPI's Constitutive Congress was held where Gbagbo was elected to be the party's Secretary General (1988-1996) and later became Chairman of the FPI party (1990-2000).
In 1990, Gbagbo was the only candidate to run against President Houphouet-Boigny and lost in the first multiparty presidential election, but won a seat in the National Assembly. Following Houphouet-Boigny's death in 1993 and accession of Henri Konan Bedie to the Presidency, Gbagbo called for a revision of the electoral code for the next general election of 1995, including the removal of foreigners' rights to vote and the establishment of a voting age of 18 years old. In 2000, the FPI nominated Gbagbo as a presidential candidate; and in the election held later in the year, Gbagbo won the presidency.
In 2010, Gbagbo ran against Alassane Ouattara in the elections held at the end of the year. Despite fraudulent electoral results reported, Alassane Ouattara was declared to be winner by the Independent Electoral Commission (CEI), though the only authority to legitimize results is the nation's Constitutional Council who has declared Gbagbo as winner.
Main bios:
http://gbagbo.ci/gbagbo_homme.asp; http://www.cotedivoirepr.ci/?action=show_page&id_page=2