February 10, 2012
Released Pro-Gbagbo Prisoners Plead For Others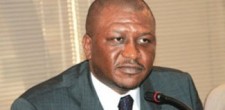 10 February 2012
In Ivory Coast, members of the old regime released last November by the Ivorian judiciary plead for their fellow prisoners who will face the interior minister. In December, several requests for parole were rejected by the court in Abidjan. There are about sixty pro-Gbagbo prisoners expected for trial.
Gervais Coulibaly, a former spokesman for Laurent Gbagbo, leads the delegation. There are a dozen relatives of the former regime, three of whom were imprisoned at the end of the Civil War.
Former Minister Gnamien Yao who spent four months in Bouna, in north-eastern Côte d'Ivoire, said "My nights are haunted and troubled by the look of President Affi N'Guessan and my younger brother Michel Gbagbo telling me" goodbye "when I remember when we left and they both remained in this prison. No sacrifice is too much for us so we can help free our comrades. "
The interior minister says the government is reaching out to the opposition but to Hamed Bakayoko, this plea for the release of prisoners of the Gbagbo era is still premature.
"There are people who are still mourning on both sides, said Hamed Bakayoko, so whenever they see an act of appeasement they have a feeling that this is injustice. So we must look beyond that and we need to have the courage to reconcile. In order to seek reconciliation, it takes two. "
Ivorian justice reviews dozens of cases of crimes committed during the post-election crisis. The first trial should begin within a few weeks.
African Diplomacy Staff