July 29, 2011
US Senator Inhofe Decries Obama Meeting with Ouattara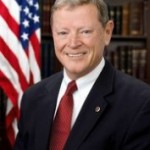 July 29, 2011
WASHINGTON, D.C. – U.S. Sen. Jim Inhofe (R-Okla.), a senior member of the Senate Armed Services Committee (SASC) and member of the Senate Foreign Relations Committee (SFRC), today reacted to President Obama's meeting with potential war criminal and illegitimate leader of Cote d'Ivoire Alassane Ouattara in Washington, D.C.
"It is outrageous that President Obama would welcome, with open arms, a man who is responsible for the death of at least 3,000 people and displacement of half a million refugees in the African country of Cote d'Ivoire," said Inhofe. "Instead of participating in our nation's budget crisis, the President spends his time meeting with this killer and human rights abuser. Ouattara's bloodletting seems unabated, and he does not seem to be interested in restraining his forces from eliminating perceived pro-Gbagbo supporters.  He did not deserve an invitation to our White House or an audience with our President in the Oval Office.  Ouattara is nothing more than an illegitimate usurper who has scandalized Cote d'Ivoire's electoral system, and unlawfully ousted democratic incumbent Laurent Gbagbo."
Inhofe cited Amnesty International's report from July 28 that states half a million Ivorians are displaced in post-election violence, and are prevented from returning home because of a "climate of fear" that continues to reign in Cote d'Ivoire.  Amnesty International specifically singles out Ouattara's security forces and his state-sponsored militia composed of Dozos who continue to target pro-Gbagbo ethnic groups.  Dozos, traditional hunters, are a mercenary group that both Amnesty International and the International Committee of the Red Cross blame for carrying out a massacre in April of at least 220 people in the western town of Duekoue.
Beginning late last year, Ouattara fraudulently won Cote d'Ivoire's presidential election, and after President Gbagbo revealed the fraud, led a rebel army that violently overthrew the Gbagbo government with support from the French military, which wrongly intervened in this former French colony.
Inhofe has regularly called for new elections in Cote d'Ivoire.  In May, Inhofe demanded answers from Administration officials during a SFRC hearing on the current crisis in the war-torn country. He has remained an outspoken critic of Ouattara and has repeatedly drawn attention to this issue on the Senate floor.